16 Oct 2017 | 531
Selected by NERC, the Sir Alister Hardy Foundation for Ocean Science (SAHFOS) has been chosen, as part of a new 'BLUEPRINT' consortium, to build capacity in public engagement with environmental research across the UK.
NERC has awarded a total of £500,000 to six projects to equip the environmental research sector to deliver effective, national-scale public engagement with contemporary issues of environmental science.

As one of the six successful bids, BLUEPRINT consists of nine institutions and organisations who will consolidate their learning, expertise and training into a 'blueprint' for how to build consortia, build capacity, and how to create innovative activities in public engagement.

By combining scientists, facilitators, creatives and skilled media communicators, the aim is to equip researchers with the capacity and skills to engage people in a nation-wide conversation on the future of our seas.

Alongside SAHFOS, BLUEPRINT brings together eight other major UK-leading marine research, engagement, advocacy and environmental arts organisations: Marine Biological Association; King's College London; Joint Nature Conservation Committee; University of Plymouth Marine Institute; University of Edinburgh; Scottish Association for Marine Science; Incredible Oceans; and Invisible Dust.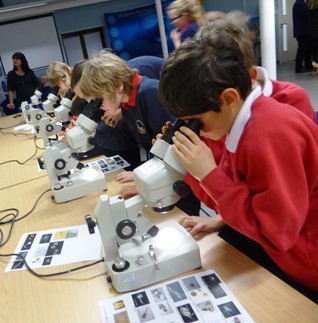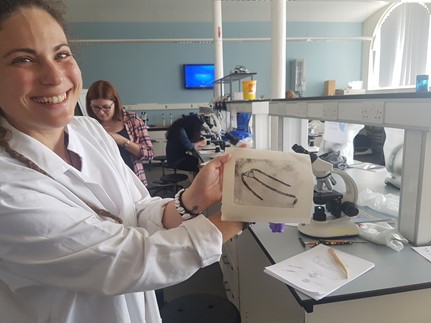 (Left: British Science Week, credit: J. Sewell, right: Plankton Art Masterclass credit: G. Brice)
SAHFOS is an internationally funded non-profit research organisation that operates the Continuous Plankton Recorder (CPR) Survey. The Foundation has been collecting plankton with the resulting data providing informational on biogeography and ecology of the planktonic community. The results of the Survey are used by marine biologists, scientific institutes, governmental bodies and in environmental change studies across the world.

Jennifer Skinner, Outreach Officer for SAHFOS said "Blueprint offers an exciting opportunity to pilot and develop new ideas and techniques of communicating the fantastic research carried out across the UK to a wide audience.
We are thrilled to have been successful and are looking forward to forging new partnerships with academic institutes, independent research organisations and experienced public engagement specialists on a national scale."

These projects have been funded through NERC's Engaging Environments programme which follows a pilot funding call that was held late 2016.The programme aims to build a long-term, effective and innovative public engagement community. Full details are available on Grants on the Web.

NERC's Director of Corporate Affairs, Alison Robinson, said:
"'Engaging Environments' is a huge step towards achieving NERC's ambitious, long-term goals for public engagement with environmental research. We are delighted to be funding such a range of innovative programmes and look forward to seeing these build bigger, better and more meaningful engagement in the enormous range of environmental topics that affect our daily lives."
Starting in October 2017, these Stage 1 projects will last 12-months and will be invited to bid in Stage 2 to lead one longer-term project. This will deliver a much larger scale of public engagement than NERC has supported previously, achieving demonstrable impact across the UK and national recognition
Further information
Jennifer Skinner
Outreach Officer, Sir Alister Hardy Foundation for Ocean Science
01752 426350
jenski@sahfos.ac.uk
Jon Parr
MBA Deputy Director and Education Team Leader
01752 426493
jpar@mba.ac.uk
Hannah King
Public engagement officer
01793 411572
publicengagement@nerc.ac.uk
Sylvie Kruiniger
NERC external communications officer
01793 412593
syluin@nerc.ac.uk