29 Jan 2018 | 415
Continuous Plankton Recorder (CPR) Survey data has been used by scientists to work in correlation with images collected by NASA to identify the ways in which our warming seas are affecting other Earth systems, in this case in particular, life in our Oceans.
The work has been highlighted via the NASA Image of the Day feature on their website in January.
The nod to the use of SAHFOS data was quoted as, "To confirm the correlation, the scientists investigated bacterial DNA from archived formalin-preserved plankton samples collected by the Continuous Plankton Recorder Survey over the past half-century (1958–2011). In areas of warming, data from historic plankton sampling sites showed increases in Vibrio bacteria abundance."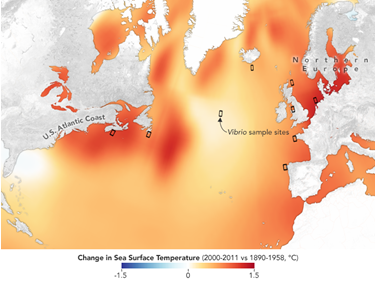 The research is being led by long-time SAHFOS collaborator, Luigi Vezzulli from the University of Genoa in Italy.