31 Dec 2020 | 150
Continuous Plankton Recorder Survey goes the distance to win a Guinness World Record
Seventeen times to the moon and back – we've set the record for the greatest distance sampled by a marine survey!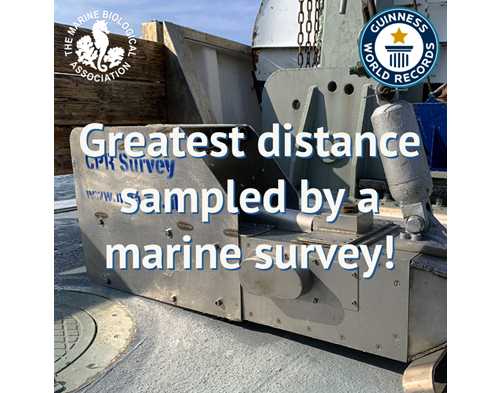 Established by Sir Alistair Hardy in 1931, the Continuous Plankton Recorder (CPR) Survey has been collecting information about the health of our oceans for decades. Now in its 90th year, the CPR survey have sampled over 7 million nautical miles of ocean – ample to be awarded the Guinness World Record for the greatest distance sampled by a marine survey!
David Johns, Head of the CPR Survey, said, "We are so proud of receiving a Guinness World Record, to have towed over 7 million miles is incredible, I'm sure Sir Alister Hardy would not believe the ongoing success of the Survey."
Sir Alister invented the CPR back in 1931, with the first deployment taking place in the North Sea on the 15th of September. The technology has stayed much the same since. Johns continued, "Towing that distance has allowed us to collect a huge wealth of data, creating an un-paralleled time series that can be used to show long term changes in the marine environment."
 "As we approach the 90th anniversary of the first CPR tow, we can reflect on the foresight of Sir Alister, without whom our knowledge of the plankton community, the very base of the marine food web, would be so much poorer." By analysing the plankton present in each sample, we can look at trends over time and how these organisms are responding to climate change and other factors.
Of course, none of this would be possible without the continuing support of the shipping industry, who we are ever grateful to!
If you would like more information about this topic, please contact David Johns at djoh@mba.ac.uk.