07 Aug 2023 | 83
The ocean has reached its highest average surface temperature, breaking a record high from 2016, according to the EU's climate change service Copernicus.
The ocean helps regulate our climate, produces most of the oxygen we breathe and is home to a vast range of species. It reached 20.96C (69.73F) – far above the average for this time of year.
Researchers at the CPR Survey's parent institute Marine Biological Association (MBA) are working to understand how and where ocean temperatures are increasing, and the impacts these changes are having on the wider marine ecosystem.
BBC Climate Editor Justin Rowlatt visited the MBA to learn about data collected from the Continuous Plankton Recorder (CPR) Survey, the longest running and most geographically extensive marine plankton sampling program in the world. CPR Analyst Jennifer Leigh said: "Over the last six decades we've been seeing some plankton species moving further north, and that's having a direct impact on the wider ecosystem."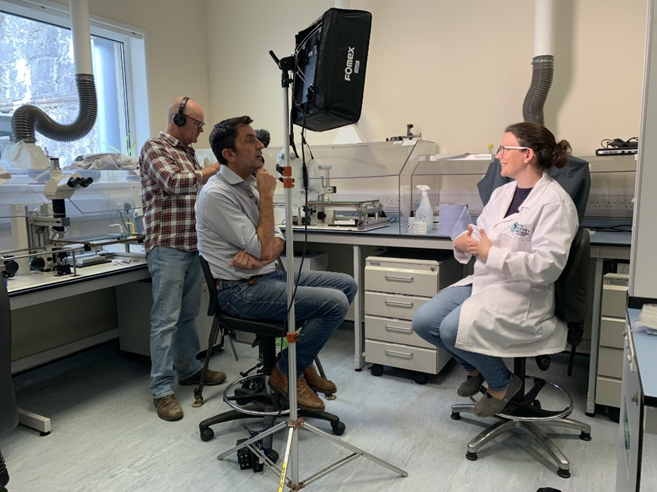 BBC Climate Editor Justin Rowlatt interviewing CPR Analyst Jennifer Leigh in the CPR Labs.
Plankton are a diverse collection of tiny organisms found in water. They are a vital food source for many organisms and their activity in the ocean helps regulate the absorption of carbon from the atmosphere to the ocean.
Leigh added: "Plankton are incredibly important, they provide over half the world's oxygen, and they are also providing food for so many species within the marine food web."
Most plankton are sensitive to environmental changes, which means they are excellent indicators of contamination.
Research using CPR Survey data has shown that the distribution and abundance of some plankton speciesis changing in response to increasing sea surface temperatures. Species that are adapted to colder temperatures are being pushed northwards towards the pole, while species that are more suited to warmer waters are replacing them.
Filming took place aboard Research Vessel MBA Sepia and in the CPR Labs based at the Marine Biological Association. The story was covered on BBC Breakfast, Lunchtime News and a range of BBC Radio stations.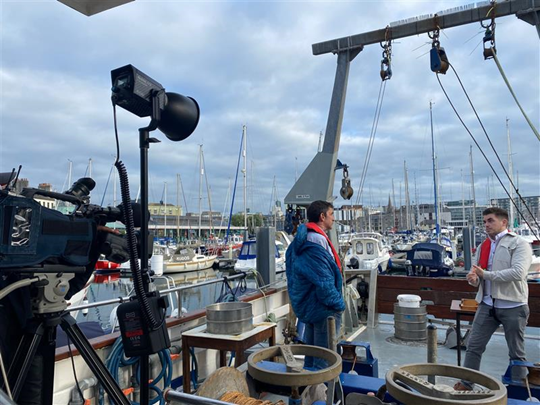 BBC Climate Editor Justin Rowlatt interviewing Dr Michael Collins, University of Plymouth, aboard Research Vessel MBA Sepia.
The Marine Biological Association is also home to the Smale research group, who specialise in investigating the detrimental effect of marine heatwaves.
Marine heatwaves occur when ocean temperatures are extremely warm, much warmer than expected for the location and the time of year for an extended period of time. They can often have significant impacts on marine ecosystems and industries. 
The research team have published papers on the biological and socioeconomic impacts of marine heatwaves, and contributed multiple articles for The Conversation.
Postdoctoral Research Assistant Dr Katie Smith said: "This year is an unprecedented year for Marine Heatwaves globally. The increased water temperatures have the potential to cause mass mortalities in a range of animals from invertebrates to marine mammals, loss of marine habitat, and disease. Marine Heatwaves can also impact fisheries and tourism causing huge losses to global economies.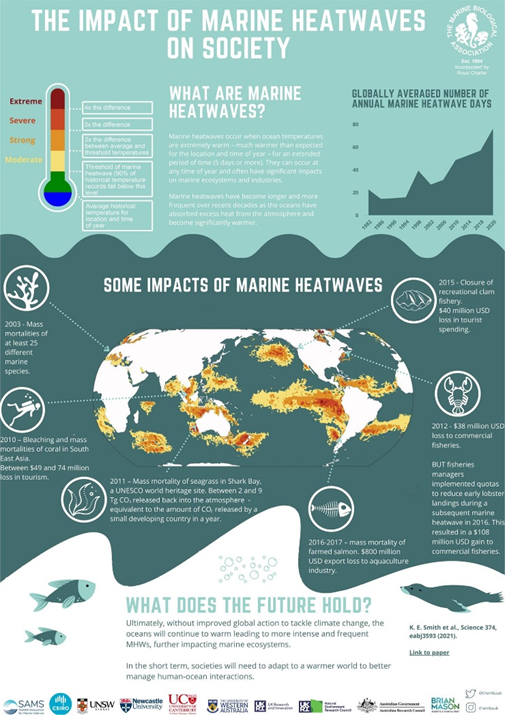 Impact of Marine Heatwaves infographic.