The Continuous Plankton Recorder (CPR) is a robust and reliable instrument designed to capture plankton samples over huge areas of ocean. The CPR is usually towed from the stern of volunteer merchant ships such as RoRo and Container Ships. However this versatile recorder has also been deployed from large sailing vessels, fishing boats and super tankers.
Designed to be towed from merchant ships,  Alister Hardy used the first prototype to sample krill in the Antarctic on the Discovery cruises of 1925-27. He modified the design for use in the North Sea and began collecting plankton in the 1930s. The CPR was deployed in the North Sea regularly from 1946, on a number of routes.
The CPR body is about one metre in length and weighs approximately 85kg.  It is towed on a 10mm diameter wire rope at a depth of about 5 -10 metres. The wire is connected to the CPR nose via a shock absorber. The CPR has been operated successfully at speeds of up to 25 knots, and its robust design allows deployment in rough seas.The CPR Survey conducts a number of technical courses for complete training in setting up and running a CPR survey. These are run throughout the year and may also be requested on an ad hoc basis.

The CPR works by filtering plankton from the water over long distances on continuously moving bands of filter silk. The filter silk band is wound through the CPR on rollers turned by gears, which are powered by a propeller.The internal mechanism of the CPR is a self-contained cassette that is loaded with the filtering silk at the laboratory. On some tows, the ships are supplied with several cassettes, which they load into the CPR body to increase the sampling range, with some ships towing a CPR over 3,500 nautical miles.On return to the laboratory, the silk is removed from the mechanism and divided into samples representing 10 nautical miles of towing. The plankton on these samples are then analysed according to standard procedures.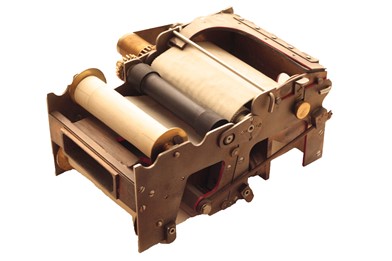 If you are thinking of using a CPR or starting your own CPR survey, there are a number of things to consider first, they are highlighted in the CPR Guide.