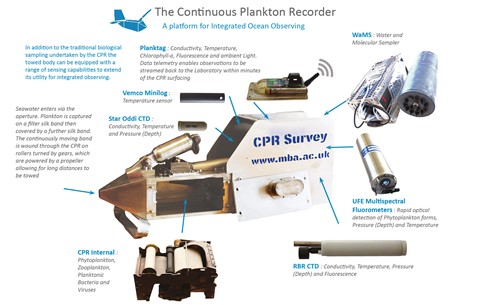 The CPR Survey samples the surface waters of the oceans with extensive spatial coverage at approximately monthly intervals. On a number of survey routes, additional physical, chemical and biological observations of water masses are made in order to complement our plankton data. These observations help provide an immediate environmental context for our plankton samples and in their own right, act as important datasets to monitor changes in the health of the world's oceans. CPR instrumentation data is available by completing the Data Request Form.
Parameters measured and their locations
A range of parameters are routinely measured on a number of our CPR survey routes.
Since 1994 a range of sensing technologies have been trialled on the CPR and we maintain an archive of these datasets alongside the contemporary data we collect.
Observation Technologies
Temperature
Conductivity, Temperature & Depth
In-situ discrete water sampling
Developing our environmental observation capabilities
The CPR Survey offers an attractive platform from which in-situ environmental measurements can be made that complement other ocean observation networks and provide validation data for remotely sensed earth observation programmes.
This avenue of ocean monitoring has focused on the development of a new sensing unit for conductivity, temperature, depth and chlorophyll-a fluorescence. These instruments collect measurements at 1Hz on submergence and then transmit their data wirelessly to us on emergence at the end of a tow, providing near real-time data delivery. Analysis of the measurements can begin within minutes of the completion of a CPR tow, and enables us to gain insights about the physical environment and proxies related to the phytoplankton population well in advance of the CPR samples returning to the Laboratory. Conductivity is used to derive (a measure of) ocean salinity and combined with temperature and fluorescence parameters will provide us with in-situ information into the dominant environmental forcing on plankton distributions. This instrument is currently deployed on ten routes that cover the North Sea, English Channel and North East Atlantic 
In addition we are testing technology for the rapid classification of phytoplankton groups, the detection of Harmful Algae and developing capabilities for in-situ plankton imaging and dissolved gas measurements.